Established 1829
~ 2016-2017 Lyceum Schedule ~
Here is information on our 2016-2017 season. You can purchase individuals tickets for each program or save money by buying a season pass -- good for one household for all shows. Tickets and passes are available at the door or
online
beginning around mid-summer.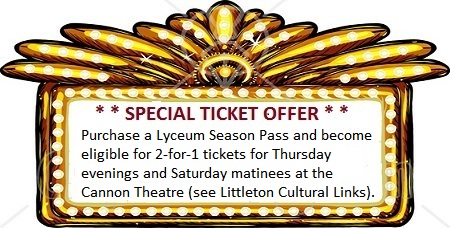 ---
Blackstone Valley Bluegrass
Friday 9 September, 2016
7:30 pm

These guys can really mix things up musically and entertain an audience! They're all multi-instrumentalists and play a wide range of bluegrass styles... but what really sets them apart are their powerful three and four part harmonies. Come check out Blackstone Valley Bluegrass to hear some great bluegrass music, smooth harmonies, fast but tasteful pickin', and most importantly, to have a great time!

Purchase tickets online.
---
Michael Tougais: So Close to Home
Friday 4 November, 2016
7:30 pm

Michael J. Tougias, bestselling author and co-author of 24 books, is offering a dramatic presentation based on his co-authored book So Close to Home. This story is set during World War II and is about an American family captured by the Germans. Tougias will use slides of their capture, the family, and their rescue that puts the audience right in the middle of the story and events. So Close to Home is a survival story and history book rolled into one and the presentation is suitable for all ages.

Purchase tickets online.
---
Gwendolyn Quezaire-Presutti as Harriet Tubman
Friday 27 January, 2017
7:30 pm

Harriet Tubman was a woman of unique qualities and abilities, who maintained an unblemished record of vigilance, legacy of sacrifice and struggle. Come see Gwendolyn Quezaire-Presutti bring Tubman to life in a one-woman performance. Quezaire-Presutti will talk about the character and answer any questions you might have at the end of her performance.

Purchase tickets online.
---
HELP!: Beatles Tribute Band
Friday 10 March, 2017
7:30 pm

The whole family will enjoy the New England's premiere Beatles tribute band HELP!. This extravaganza will capture the sound, look, energy and spirit of the Beatles' immense catalog of music. Come sing-a-long to your favorite Beatles' tunes and bring back memories of one of the most famous British bands ever.

Purchase tickets online.
---
All Lyceum events begin at 7:30 pm and are held in the Littleton High School Auditorium, Littleton, MA (Directions). Click on "Ticket Information" in the navigation to learn about purchasing individual or season tickets. Tickets can now be purchased online!