Established 1829
2013-2014 Lyceum Schedule
The Lyceum Committee is pleased to present the schedule for the 2013-2014 season. All events begin at 7:30 pm and are held in the Littleton High School Auditorium (Directions) unless otherwise noted. More information about the specific performances can be found by clicking on the link in the performance descriptions below. While you can always buy your tickets from a Lyceum Committee member, consider purchasing your tickets online; it's safe and secure.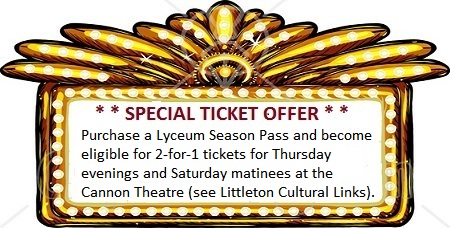 Beethoven's Wig
Friday 25 October, 2013
7:30 pm

Beethoven once said, "If my music had words it'd be a lot more popular." It turns out that Richard Perlmutter has done just that! Perlmutter has added lyrics to Beethoven and to many other works of classic composers! U.S. News & World Reports says "Perlmutter's got goofball charm…the orchestra's great, and his lyrics are truly hilarious." Children and adults alike will develop a new found appreciation for orchestral music and have a great time doing so.
Atwater and Donnelly
Friday 22 November, 2013
7:30 pm

This husband and wife team present a thrilling blend of traditional American and Celtic folk music and dance, along with original songs and poetry. Aubrey Atwater and Elwood Donnelly have performed for twenty-five years in the US, Canada and Europe. They bring with them unique instruments such as the the mountain dulcimer, old-time banjo, tin whistle, guitar, mandolin, harmonica, limberjacks, feet and more. Their performance is appealing to all ages, and with humor, audience participation, and a relaxed stage presence.
Shakespeare & Company: Romeo and Juliet
Friday 28 February, 2014
7:30 pm

Based in the culturally-rich Berkshire Hills of western Massachusetts in Lenox, Shakespeare & Company aspires to create a theatre of unprecedented excellence rooted in the classical ideals of inquiry, balance, and harmony; a company that performs as the Elizabethans did — in love with poetry, physical prowess, and the mysteries of the universe. Come see them perform Romeo and Juliet and discover the resonance of Shakespeare's truths in the everyday world.
Bernadette Stockwell: Littleton Portraits
Friday 25 April, 2014
7:30 pm

As Littleton looks forward to its 300th Anniversary, there is an opportunity for reflection as well. Bernadette Stockwell will present the lives of ten long time Littleton residents through photographs and personal interviews. This promises to be an energetic and informative presentation that will leave the audience with images and memories to be treasured for years to come. This program is sponsored by the Rotary Club of Littleton.
---
All events begin at 7:30 pm and are held in the Littleton High School Auditorium, Littleton, MA (Directions). Click on "Ticket Information" in the navigation to learn about purchasing individual or season tickets. Tickets can now be purchased online!